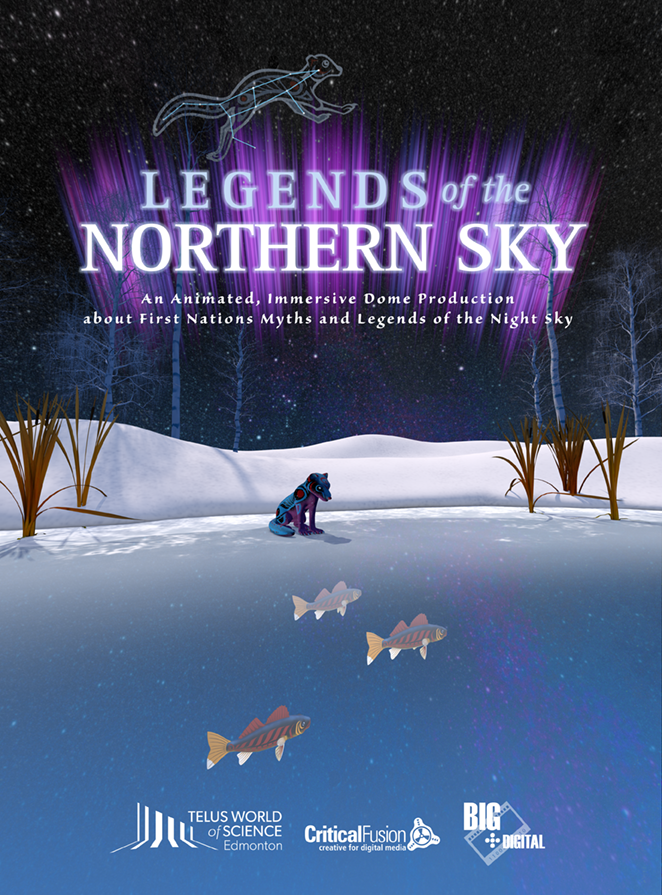 Legends of the Northern Sky is an immersive animated dome project that I initialed three years ago. Starting with an idea as a potential production that would run in a 360 immersive dome, it it was followed up as a well-research pitch. Now that it's done, it's days away from the premiere opening, and it all was well worth the effort.
For my involvement as writer, director, concept artist, storyboard artist, modeler, texture artist, project manager … I was involved in the entire process, and I brought in three other local animation graduates to bring this production to completion. It was a learning experience for all of us because it was an immersive dome production with plenty of CG animation … lots of animals and birds rigged and run through the paces, all to be rendered in 8K resolution.
Biggest challenge was managing technology and budget, because for CG, it had a fairly reserved budget. Overall, it all came together as planned, with not much fretting.
Legends of the Northern Sky premieres April 10 at Telus World of Science Edmonton
Legends of the Northern Sky, an immersive CG animated production written and directed by Perry Shulak and produced in Edmonton, will open at the Telus World of Science on April 10, 2019. It will be shown in the newly renovated dome theatre, with a recently added 10K projection system. This is the first immersive dome animated project to be developed in Edmonton, and one of the few ever to be produced outside Montreal. The premiere showing will include a presentation by "Wilfred Buck," the nationally know expert on First Nation's constellation stories. Notable invited guests, and children from local First Nation community schools will be in attendance. Following the opening, the production will be running in cycles at the Telus World of Science.
Voiced by Julian Black Antelope, known for his role in the TV series "Blackstone," weaves a story of a time thousands of years ago when observation and imagination precluded modern science in our interpretation of the stars. Fantastical stories evolved from local First Nation communities that explored both the human and animal spirits as they strived to survive in a wild and unpredictable land. It's a story that is very much Canadian in origin, which embodies our desire to work together as a family, and strive to build better more resilient communities.
Unlike typical flat screen films, immersive dome is a theatrical experience that runs a full 360° around the audience. With the introduction of spherical cameras in CG animation software, it allows us to move through and around exploratory space where the camera is not rigid or stationary. This dramatically advances the story telling experience by stripping away traditional aspects of composition and framing, and introducing audiences to flowing world experiences.
The production is presented by Big & Digital, a Las Vegas based distributor and will be marketed to dome theatres worldwide in both 8K and 4K format. Legends of the Northern Sky will be hitting the immersive dome festival circuit, with first European showing in May in Jena, Germany.
A trailer of the production can be viewed at http://www.criticalfusion.com/portfolio/legends-northern-sky-360-animation/.